Keep your pets safe on the road
Our dogs and cats are important members of our families, but they can sometimes leave their mark on our vehicle's interior when they travel with us. Here are six things you can do to protect your car and keep your pet happy: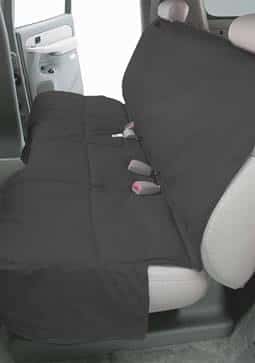 Car Hammock. A pet hammock attaches to the back seat and front seat headrests and protects the entire back seat from hair, drool, dirt and other "gifts" our pets may leave behind.
Pet Seat Cover. If your pet rides on his or her special seat, you can get a seat cover specially designed to be water resistant and durable.
Cargo Cover. For vehicles with large, open trunk spaces where pets ride, a cargo cover does exactly what you think: it covers the cargo area.
Seat Belt Harness. If your dog is not crated while traveling, a seat belt harness is a great safety precaution and it restricts your pet's movement inside the vehicle.
Ramps. For dogs that may have difficulty jumping into and out of vehicles, a ramp offers easy access.
Nail Caps. Our pet's nails can scratch and rip leather or synthetic leather interior surfaces. Caps cover the very tips of your dog's or cat's nails, and are applied with a very small amount of adhesive.
For more information on pet-proofing your vehicle, visit http://www.petguide.com/insurance/dog/6-easy-ways-to-pet-proof-your-car/.